I know that it sounds crazy to question the US government in the face of their stellar reputation for accuracy, morality, and consistent principles. It's especially unpopular to question agencies such as the FDA or CDC. However, I have seen so much obvious evidence that the federal government is willfully acting in bad faith and producing misinformation in order to achieve an agenda, that I must speak out.
For the past few months, the US government has been inflating numbers and exaggerating both the infectiousness and the lethality of COVID-19 (AKA the Wuhan Virus). From the beginning, this whole 'pandemic' seemed suspicious to me. The government and naive people were acting as if COVID-19 were a super-disease a billion times more deadly than 'AIDS-Ebola-SARS' which was liable to kill every human on Earth. Due to the government-media matrix frightening people, many of my friends and relatives began to worry that if they breathe the same air that a sick person breathed anywhere on Earth, they had a 100% chance of contracting the virus and a 100% chance of dying from it.
If you ask a government official, they will seemingly tell you that this virus is by far the greatest threat to humanity in the history of the universe. This is very far from the truth, though.
I have been in emergency medicine for a number of years and I've seen thousands of emergent patients. I spent time working in a COVID-dedicated unit in the middle of this pandemic.
Like the seasonal flu or common cold?
While naive and frightened people who listen to everything politicians tell them repeat the phrase that "this isn't like the flu", I could not articulate anything that would suggest that they are different. The primary actual difference is that the seasonal 'flu' is in the family of viruses called 'influenza' and COVID-19 is in the family of viruses called 'Coronaviruses'. Many types and subtypes of viruses exist. Many of those affect humans. Of those viruses that affect humans, many manifest as respiratory infections, commonly referred to as a 'cold', because it may make you feel congested, give you a cough, make you feel lethargic, and give you a fever. Yes, Coronaviruses can cause a common cold, and it may have already been responsible for your cold during the 2019 winter. Much like seasonal influenza viruses, COVID-19 seems to be quite contagious. Each year, all of my colleagues and I become hyper-aware of PPE and airborne precautions and we often wear masks. We understand that the flu is contagious enough to infect us. We know that it's unlikely to kill us, but we also know that it could easily spread to our sick and old patients, and it could kill them. Each year, the seasonal flu kills as many as 80,000 Americans, most of which are old and/or have other illnesses; I could contend the flu is actually considerably more contagious, having infected some 40,000,000+ Americans this season. This is very similar to the behavior and statistics of COVID-19, right?
There's more.
Counterproductive measures
Over the past few months, politicians have been scaring everyone into living in a total bubble-world with no exposure to germs. Living on hand sanitizer, not going outside, and wearing a mask does limit exposure to pathogens. Our bodies are constantly exposed to millions of pathogens on a daily basis. Our immune systems learn from every pathogen, and by the time we are adults, our bodies can successfully repel or defeat nearly all of those pathogens. When we are tired or immunocompromised for any other reason, that figure drops, and pathogens such as viruses and bacteria have a greater chance of infecting our bodies. When you stop exposing your body to pathogens, you may be weakening your immune system. Once you do finally go outside and inevitably encounter a pathogen, it may impact your body much more harshly than ever before, which could be devastating. Considering that most healthy people would hardly be affected even if they did contract COVID-19, many people might actually want to purposely expose themselves to the virus to build up Corona-antibodies, in order to strengthen their immune system. This works very much like lifting heavy weights to strengthen your muscles. My recommendation for everyone other than the people with terribly weak immune systems (chemo patients, patients over 90 years old, chronic steroid/immunosuppressant patients, etc.) would be to live life 100% normally. You may contract the virus, and you may not. If you do, you could potentially pass it to a weaker person, who could be killed by it. So, common sense would say that those who do have weak immune systems SHOULD take some serious precautions. This is not that complicated.
Financial incentive
For at least a few months, and possibly since the very beginning of the outbreak, the US government has been incentivizing state governments and individual hospitals to inflate numbers of COVID cases, hospitalizations, the use of ventilators, and deaths. They literally give the hospitals $13,000 in exchange for each diagnosis, even if a test was never performed. If a patient is placed on a ventilator due to COVID, the federal government gives the hospital $39,000. The US government is also giving states billions of taxpayer dollars. How much each state receives depends on its population – and how bad the outbreak appears to be in the state. So, for example: Being a good statesman, Governor Sununu is making New Hampshire seem as sick as possible so that Trump sends him as much money as possible. It's understandable why Sununu would shut down the state's economy for months on end. I can assume from his actions that he wanted billions of dollars for his constituents, and he certainly did not want to be responsible for a worsening pandemic outbreak in his state.
A respiratory therapist said of the government pressure on his facility: "They were calling everything a covid death…Even if it was cancer or natural causes…"
On April 9th, a doctor from Minnesota went public with the new CDC guidelines. The CDC told doctors throughout the whole US that: "In cases where a definite diagnosis of COVID cannot be made but is suspected or likely (e.g. the circumstances are compelling with a reasonable degree of certainty) it is acceptable to report COVID-19 on a death certificate as 'probable' or 'presumed.'"
This is especially peculiar, explained the doctor of 35 years, because "I've never been encouraged to [notate 'influenza']… I would probably write 'respiratory arrest' to be the top line, and the underlying cause of this disease would be pneumonia … I might well put emphysema or congestive heart failure, but I would never put influenza down as the underlying cause of death and yet that's what we are being asked to do here."
The Texas Dept. of Health recently posted a video of their latest meeting concerning the pandemic. The government officials in this video explain that the newest guidelines will be even more inclusive and wide open than any previous guidelines anywhere in the US. The person in charge clearly wants every person in the US to be deemed as COVID positive.

Another member of The Liberty Block editorial team has worked in several COVID-dedicated facilities, and reported identical guidelines stating ANY patient who was declared dead at the facility would have COVID listed as the cause of death no matter what, and that no autopsy would be performed.
So, the thousands of deaths listed officially as 'COVID-19' throughout the US may have included countless deaths due to the seasonal influenza virus or other illnesses. Now that the government has totally lost credibility, why should we believe any of their numbers?
The guidelines constantly seem to be changing, generally becoming even more inclusive and ridiculous. Now, any patient who exhibits any signs commonly associated with any infection (fever, cough, weakness, etc.) can be deemed as COVID on a death certificate, even if they never had a positive test. The government also wants doctors to list COVID as the cause of death for patients who may have been in contact with a person who was COVID positive or who had any of the above symptoms. Whatever the illness, history, or cause of death, nearly every patient who dies in a hospital has a fever or weakness or difficulty breathing during their hospital stay before dying, of course. When I first heard this, I said something along the lines of: "But that's like…..every patient in every hospital on Earth". Exactly.
Why are governments and the media causing fear?
There could be a few reasons: Firstly, the media benefits from high ratings, and fear of a pandemic is like striking gold, as far as they're concerned. As for the governments, they do love a frightened populace, because they are easiest to control. Additionally, I believe that this 'pandemic' may be serving as a convenient test run for many politicians. They are learning how tightly they can control people. Can they shut down businesses? Can they mandate masks, social distancing, and vaccines? Yes, yes, and yes. Can they mandate that every American have a micro-chip that tracks everyone and fulfills the inevitable CDC 'contact tracing' guidelines? Probably. They will see how far they can push this crisis. Just in case this pandemic fades in the next few months, politicians and their officials already have the next justification for a crackdown on our liberties waiting in the wings. As politicians believe and sometimes admit: "Never let a crisis go to waste".
In my professional medical opinion, taking all of the above information into account, the reported COVID statistics may be 100 or maybe even 1,000 times as high as they really should be.
Further reading:
Children rarely transmit COVID-19, doctors write in new commentary: Schools can reopen in fall, they say, if safety guidelines are observed and community transmission is low
Child care centers don't drive coronavirus infections, national study shows
Coronavirus NSW: Study shows children aren't spreading COVID-19 to other kids
Peer-reviewed study: Ivermectin cuts COVID infections, deaths by 75%
Published Papers and Data on Lockdown Weak Efficacy – and Lockdown Huge Harms:
LOCKDOWN HUGE HARMS PAPERS & ANALYSES:
Note: also go to https://collateralglobal.org/
Minnesota lawmakers say coronavirus deaths could be inflated by 40% after reviewing death certificates
https://www.stitcher.com/podcast/conservative-review/the-conservative-conscience-with-daniel-horowitz/e/78423666
https://www.thecentersquare.com/florida/house-report-says-floridas-covid-19-death-toll-inflated-by-10/article_5af31f72-0e6b-11eb-bd2a-a38383a03f07.html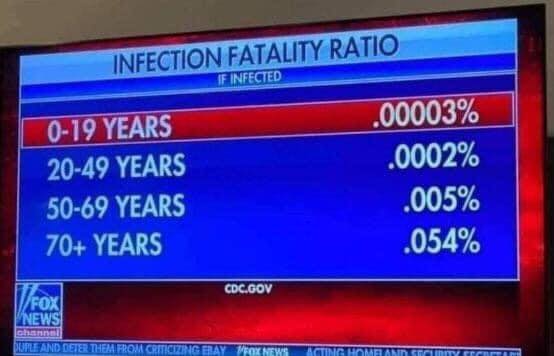 CDC admits that only 9,000 people (6% of the amount previously thought) have died from COVID alone; the others had multiple other illnesses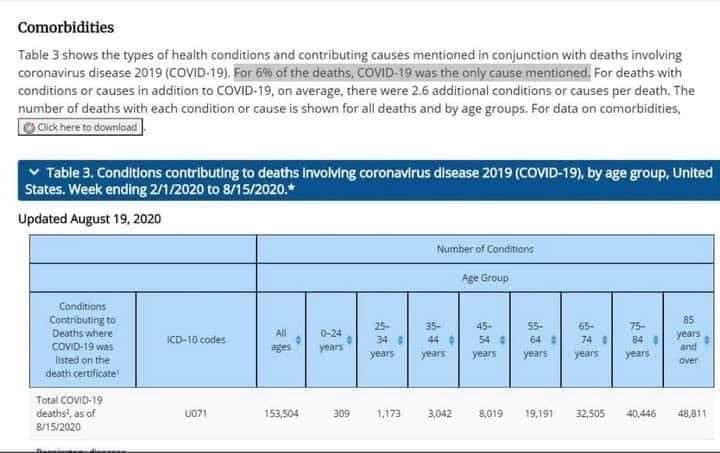 The Sneaky Trick a Public Health Official Used to Make Mask Mandates Look Super Effective
https://www.stitcher.com/podcast/the-conservative-conscience-with-daniel-horowitz/e/78945360?autoplay=true
Wisconsin Government tells employees to wear masks – even during Zoom calls at home
'We see no point in wearing a face mask,' Sweden's top virus expert says as he touts the country's improving COVID numbers
600,000 people were told they had COVID-19 despite not being tested
CDC Head Estimates U.S. Coronavirus Cases Might be 10 Times Higher Than Data Show
Yale Professor of epidemiology says Hydroxychloroquine cures COVID (leftists continue to imply that the drug is the most dangerous substance on Earth and does not help in the treatment of COVID at all)
Georgia kicks off chilling door-to-door COVID-19 blood collections
Health company apologizes for falsely telling 600,000 US military members they were infected with coronavirus
Orange County inflated its coronavirus test numbers by mistakenly including antibody tests
CDC Says Possibly 'Less Than Half' Of Positive Antibody Tests Are Correct
CDC adds runny nose, nausea to the growing list of COVID-19 symptoms
99% of Those Who Died From COVID Had Other Illness
COVID-19 Disqualifies Citizens From Joining the Military For Life
Hospitals Get Paid More to List Patients as COVID-19 and Three Times as Much if the Patient Goes on Ventilator
$14M in relief funds find members of Congress and family
Governors' Companies Among Recipients of Virus Relief Loans
Tens of thousands of coronavirus tests have been double-counted, officials admit
Former Health Ministry Chief Yoram Lass Calls Out 'Coronavirus Lie'
Our Endless State of Emergency and De-Facto Dictatorship
The US is Dramatically Overcounting Coronavirus Deaths
Antibody tests for Covid-19 wrong up to half the time, CDC says
COVID-19 Herd Immunity Is Much Closer Than Antibody Tests Suggest, Say 2 New Studies
Fishermen test positive despite spending 35 days at sea and testing negative before they left
Scientists Warn CDC Testing Data Could Create Misleading Picture Of Pandemic
Joliet Chamber Of Commerce Dived Deep Into COVID Numbers In Will County And Found Double Counting
Covid 19 — What the Data Tells Us
As sports resume, some fans will be made of cardboard
Dr. Anthony Fauci says new virus in China has traits of 2009 swine flu and 1918 pandemic flu
A fiasco in the making? As the coronavirus pandemic takes hold, we are making decisions without reliable data
Covid-19 — Navigating the Uncharted
N.C. 'Reporting Error' Fuels 200,000 COVID Testing Overcount
Japan Ends Coronavirus Emergency With 850 Deaths and No Lockdown
Test for Past Infection (Antibody Test)
CDC Tells States To Add Probable Coronavirus Cases
COVID-19 death rate is 75% lower in states that didn't lock down: WSJ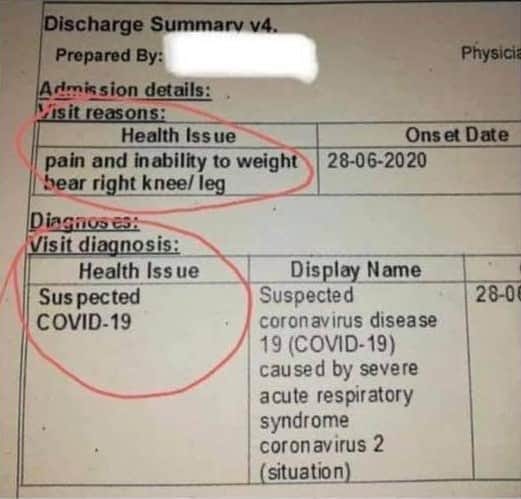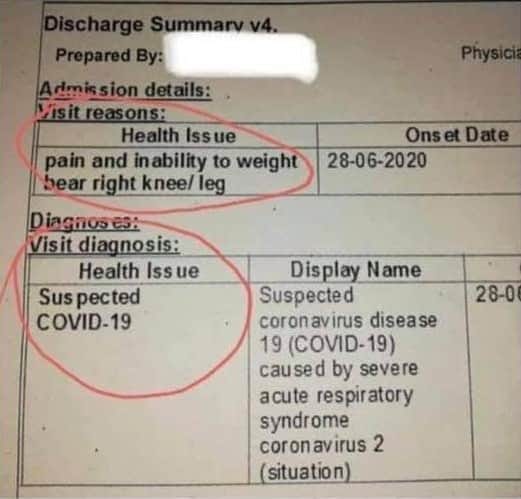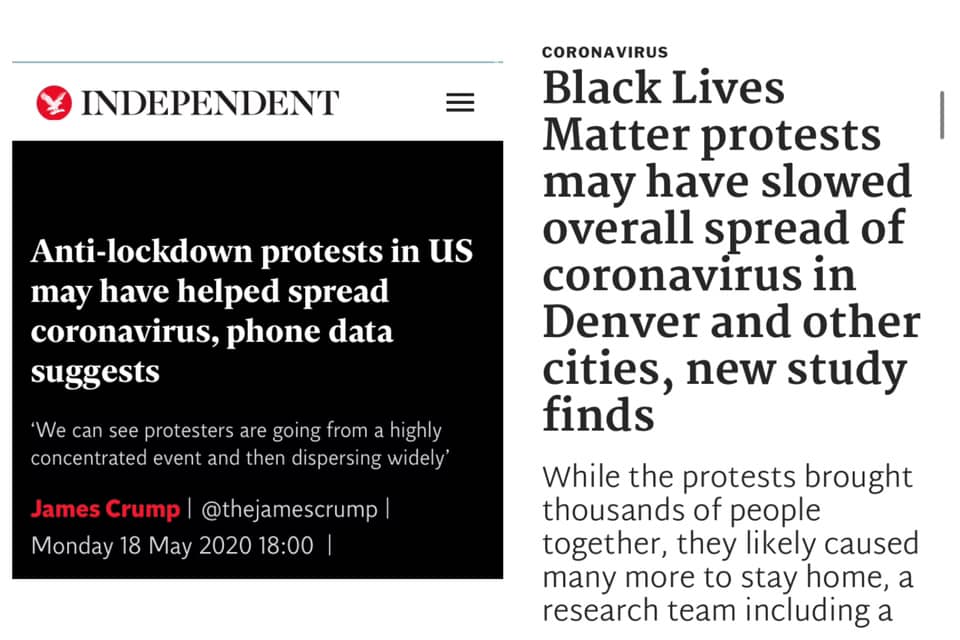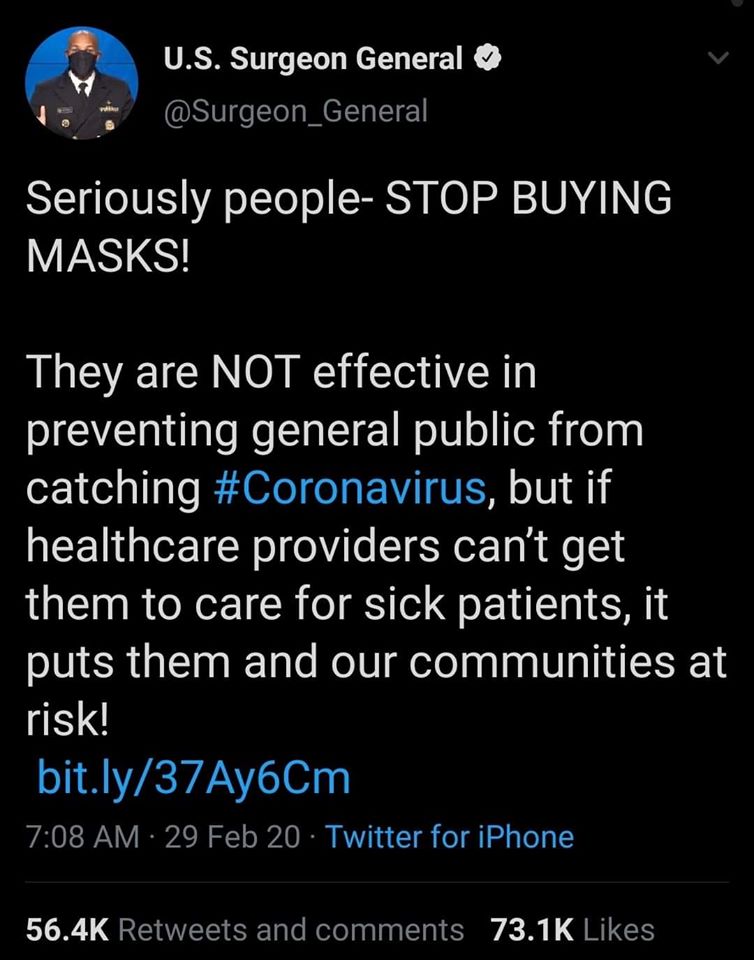 Face masks are a symbol of freedom, says US surgeon general