Sitting State Representative Michael Yakubovich has announced that he is running for State Senate in District 16. The incumbent Senator is Democrat Kevin Cavanaugh, and the district includes Hooksett, Candia, Raymond, Goffstown, and ward 1 in Manchester. The campaign held a sold-out kickoff event at the Taphouse Grille in Hooksett on Thursday evening.
Yakubovich fled the communist Soviet Union once he became an adult. In 1995, he officially became a US citizen. He works as a computer engineer on his own time, which allows him the flexibility to serve New Hampshire as a legislator and liberty activist. He lives in Hooksett with his wife, son, and daughter.
Yakubovich has served on the town's budget committee since 2016 and has served as a State Representative since 2018. As a member of the budget committee, he consistently pushes the town and school to be as frugal and efficient with taxpayer dollars as possible, and consistently votes to limit spending increases as much as possible. Yakubovich declines to accept any pay for his participation on the town's budget committee, despite the salary they offer being triple what State Representatives earn annually.
Liberty legislator
Throughout his three years in the House, Yakubovich has supported expanding freedom and minimizing government with his votes and his sponsored legislation. Bills that he's sponsored include protecting gun rights, lowering taxes, cutting regulations, and expanding other personal liberties. Landmark legislation that he co-sponsored include the bill to allow pharmacists to dispense ivermectin under standing orders, election integrity, nullification of federal gun laws, cannabis decriminalization, and lowering taxes by leveraging the power of advertising.
In 2021, Yakubovich earned the distinguished 'Legislator of the Year' award from the New Hampshire Liberty Alliance, an influential pro-liberty organization that rates all legislators in the state. He has an A+ rating and received an NHLA Liberty rating score of A or higher for each year he has been in office. Yakubovich has been endorsed by Young Americans for Liberty, as well.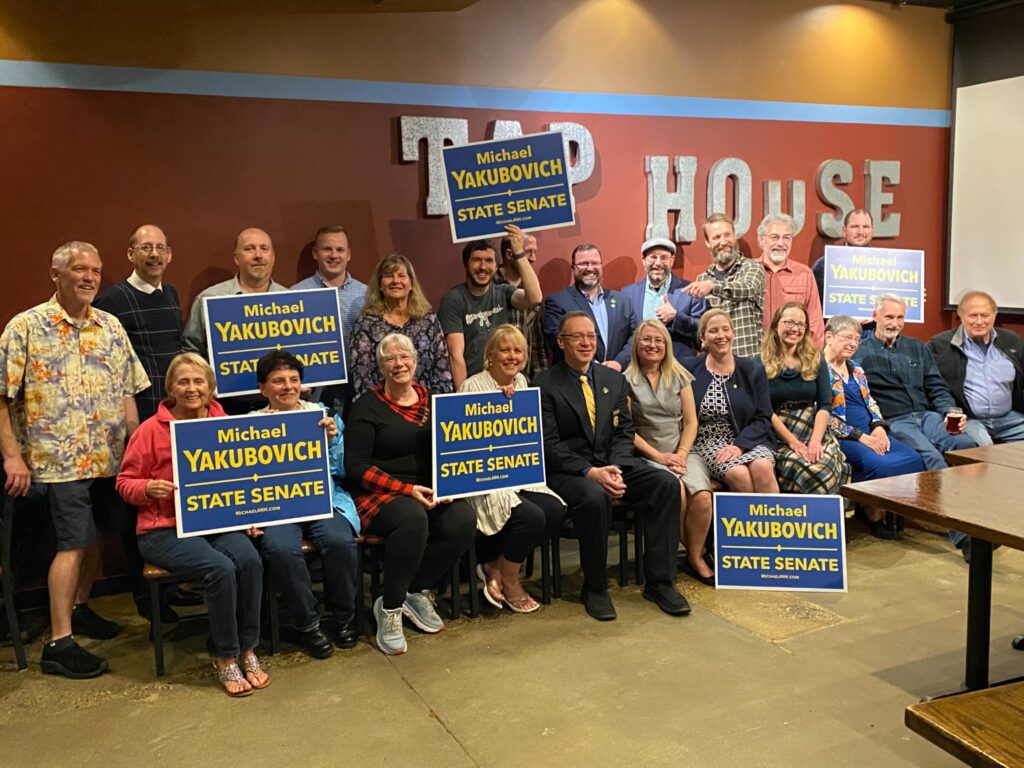 He signed the 2018 Coalition of New Hampshire Taxpayers pledge, which states, "I will oppose all efforts to impose a sales, income, or other broad based tax on the taxpayers of the State of New Hampshire."
Incumbent Senator Cavanaugh seems like a typical Democrat, generally supporting bigger government and opposing personal liberty. He is a strong believer in man-made catastrophic global warming, believes that the government should control how businesses are run, and opposes economic freedom. He has sponsored bills that sought to:
-force businesses to build entirely new rooms and provide mandatory break time for breastfeeding employees.
-force businesses to pay their employees a certain amount, which would abolish the longstanding tradition of free markets and consent-based commerce that has allowed the live free or die state to become the #1 most prosperous state in the union.
-make it more difficult for EMTs and paramedics licensed in other states to work in NH while going through the reciprocity process, despite their training and credentials being the exact same as the NH Dept. of Safety's requirements for the positions. This protectionist bill was filed just before COVID-19 arrived, and would have made the pandemic in NH even worse by exacerbating our already critical shortage of EMS providers. Cavanaugh never answered any calls or emails when The Liberty Block reached out to him for comment on this legislation.
Yakubovich will face Barbara Griffin, a moderate Republican, in the September 13th primary. The general election will take place in November of 2022. 
UPDATE: Yakubovich won the primary by a margin of 57% to 42% and will advance to the November 8th general election.
UPDATE: We are terribly sorry to report that on September 21st, Michael Yakubovich's campaign site displayed the following message:
Dear friends,
Thanks to your support, we achieved a massive victory on Primary Day. Our campaign was so strong that we won every single town and ward in the district.
Now I have to share some personal news with you. As we approached Election Day, I began to get very sick, and my doctors were initially unable to determine why. After undergoing a battery of tests, I received an unexpected diagnosis and immediately began aggressive treatment.
While my family and I are hopeful for my recovery, these treatments have temporarily incapacitated me, and I am unable to continue with my campaign.
After much consideration, my campaign and the state Republican party have together decided that the Hon. Keith Murphy of Manchester is best suited to replace me on the ballot in November.
Keith was a champion of liberty during his four terms in the State House. As a father and a small business owner, Keith knows first-hand the struggles facing Granite State families and businesses.
I want you to know that Keith has my full support, and I hope that he will have yours, as well. Please visit KeithMurphy4NH.com to learn more about Keith and how you can help his campaign.
I appreciate your prayers for my recovery. I remain dedicated to the cause of liberty and will continue to do everything in my power to advance our shared ideals.
Thank you,
Michael Yakubovich
We hope you join us in keeping Michael in our thoughts and prayers and supporting him and his family throughout his recovery.