A Republican New Hampshire Representative has proposed a bill that would begin to chip away at the cornerstone of a civil society: Due process. Like so many other politicians, this elderly conservative believes that he is infinitely more intelligent than any other human alive, and that he knows much better than anyone else in the world about safety.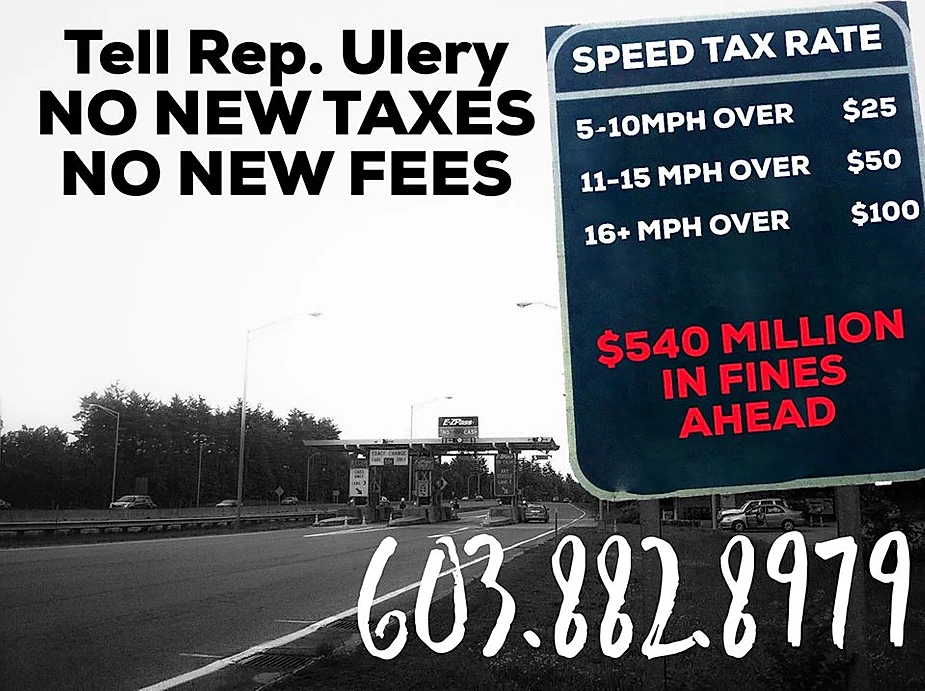 House Bill 1590 'authorizes' the New Hampshire State Government to automatically punish speeders charging their EZ Pass accounts whenever they pass through a toll at a speed greater than the posted speed limit. As the bill says:
The following fine schedule shall apply for violations of this section:
(a) $25 for driving 5 to 10 miles per hour over the posted speed limit.
(b) $50 for driving 10-15 miles per hour over the posted speed limit.
(c) $100 for driving more than 15 miles per hour over the posted speed limit.
The fine would seemingly be charged to the account registered with the EZ Pass. No police encounter, no judge, no jury, no lawyer, no 'facing the accuser', and no due process. Later, a person could hire a lawyer and appeal the punishment in court on their own dime.
This bill massively violates the 5th Amendment to the US Constitution's 'due process' clause.
This bill massively violates the 6th Amendment to the US Constitution's 'right to face the accuser' clause.
This bill massively violates Article 15 of the New Hampshire Constitution, which reads:
[Art.] 15. [Right of Accused.] No subject shall be held to answer for any crime, or offense, until the same is fully and plainly, substantially and formally, described to him; or be compelled to accuse or furnish evidence against himself. Every subject shall have a right to produce all proofs that may be favorable to himself; to meet the witnesses against him face to face, and to be fully heard in his defense, by himself, and counsel. No subject shall be arrested, imprisoned, despoiled, or deprived of his property, immunities, or privileges, put out of the protection of the law, exiled or deprived of his life, liberty, or estate, but by the judgment of his peers, or the law of the land; provided that, in any proceeding to commit a person acquitted of a criminal charge by reason of insanity, due process shall require that clear and convincing evidence that the person is potentially dangerous to himself or to others and that the person suffers from a mental disorder must be established. Every person held to answer in any crime or offense punishable by deprivation of liberty shall have the right to counsel at the expense of the state if need is shown; this right he is at liberty to waive, but only after the matter has been thoroughly explained by the court.
The sole sponsor of HB1590 has a good record of being pro-freedom. His background (which seems to include emergency medical services and investigations) has clearly given him an unreasonable hatred for speeders. When many well-respected liberty activists in New Hampshire counseled the lawmaker, he remained firm and pedantic, explaining to them that they are essentially inexperienced, reckless losers who know nothing about driving, tickets, or lawmaking. One liberty activist created a political action committee and a Facebook page and a website in order to fight this tyrannical bill.
The legislator told concerned activists that it isn't really a punishment because drivers could 'choose' not to violate the law. Of course, this would be true with nearly every crime. Still, due process ensures that no human could be punished before being convicted by a court. The well informed understand that our justice system is unbelievably corrupt, though.
Let's not even get into the whole issue with assuming that the driver is the person who owns the EZ Pass transponder.
True to his occupation, this politician defended his bill by claiming that it doesn't really violate due process and isn't even anti-liberty at all because it's technically considered an 'administrative' fee and not a 'criminal penalty'. Of course, there is very little difference between the two. They are both criminal in nature, because the government ultimately enforces both by sending armed men after you. In this specific case, the money would be taken from your account before you could even blink, seemingly!
Please contact the sponsor of House Bill 1590 and urge him to withdraw his bill. If this becomes law, due process will be entirely gone before we know it.
*****UPDATE*****
The bill has been withdrawn by the sponsor, thanks to our readers and the incredible liberty activists of GraniteGrok.com, the NHLA, and GraniteStateCommuterPAC.com. Well done!