Today, legislators in the New Hampshire House considered CACR32 – legislation that sought to place the question of peacefully exiting the union on the ballot for the people to vote on in November. In January, a House committee voted 21-0 to recommend killing the bill after hearing from many citizens who supported it and only one who opposed it. The arguments against the bill were made by politicians, and they were all refuted by the citizens. To date, not a single legislator has been willing to debate the issue publicly with a supporter of independence. After anti-freedom legislators Brodie Deshaies threatened the members with charges of treason, they all voted to recommend that the full House kill the bill.
The Democrats opposed the motion to table CACR32, because they wanted every pro-independence legislator on record supporting separation from the union. The motion did fail, and there was a roll call vote on the ITL motion, which would kill the bill. All representatives except for 13 voted to kill the bill. The majority of legislators essentially voted against letting the people vote on whether to separate from their abusers in DC.
The representatives most opposed to independence did not seem to have a basic understanding of the Constitution, the federal government, the state government, or how well we would thrive without DC politicians stealing our money and using it to abuse us. In fact, few legislators could be bothered to even read the legislation, which consisted of only a few dozen simple words.
Interestingly, when the legislators spoke on the House Floor against CACR32, all of the applause came from Democrats, while Republicans sat silently and waited to vote against their consciences – to insulate DC politicians from the vote of their constituents.
The anti-independence cowards mentioned the same ridiculous arguments: Veterans died to keep DC politicians in power (they died for freedom, not tyranny), secession is unconstitutional (it is totally constitutional), and they said we have no plans (we have plenty of plans). If any legislator had the courage to debate the issue publicly, maybe they would hear some of these answers.
These 13 brave legislators stood on principle and voted against killing CACR32: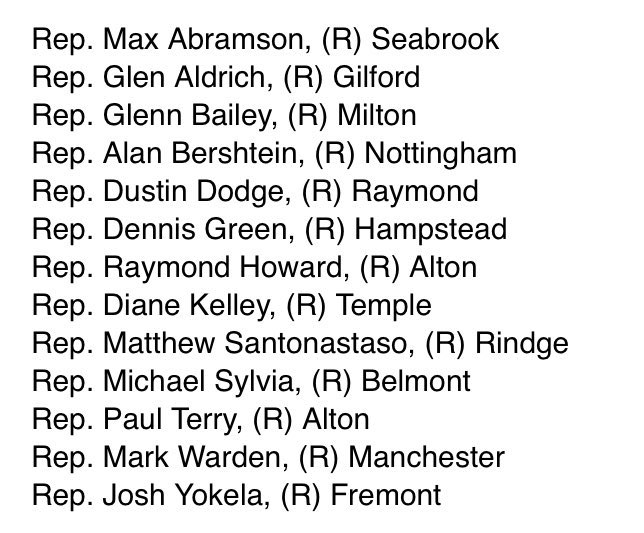 Please go thank them and support their reelection!!!!!!
Related articles:
94 Reasons New Hampshire Should Divorce DC
Law Enforcement In The Republic Of New Hampshire
Healthcare In The Republic of New Hampshire
National Defense In The Republic Of New Hampshire
A few legislators took to social media to condemn the idea of allowing the voters to determine their relationship with DC politicians: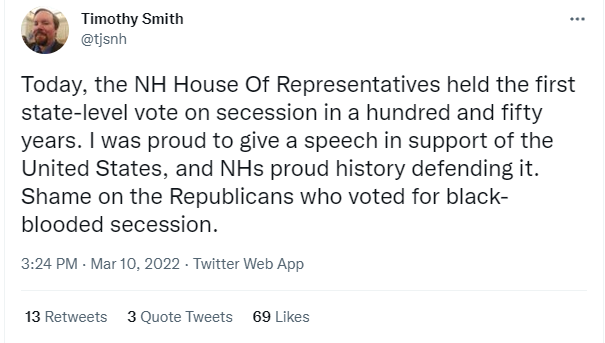 This article does not necessarily reflect the opinions of The Liberty Block or any of its members. We welcome all forms of serious feedback and debate.