By Karen Testerman for The Liberty Block
The Unconstitutional Vaccine Registry snake is slithering into St. Anselm's Institute of Politics tomorrow morning to lure the members of the Executive Council to consume the $27 million bait to further ensnare the people of New Hampshire.
As advertised, the Dictator Sununu has put the receipt of $27 million in federal funds to expand the unconstitutional vaccine registry (vaccine database to track who has been given the Covid-19 jabs) on the agenda for the Executive Council to approve for the state to receive. But, WAIT!!!…
What happened to your Right to Privacy?
In 2018, we the people voted to amend the State Constitution to declare our right to privacy by 81%? As Executive Councilor Dave Wheeler told me when being asked information beyond name, rank and serial number…"NOYB"(None of your business).
Look…here it is:
Part 1 [Art.] 2-b. [Right of Privacy.] An individual's right to live free from governmental intrusion in private or personal information is natural, essential, and inherent.
December 5, 2018
This is a clear violation that is repugnant to the Constitution – the Law of the Land in New Hampshire!
NO Calvary is coming to save us from this tyranny!
It is up to each one of us to engage in the battle.
The line was drawn in the sand when you voted to secure our Right to Privacy in 2018.
Find your position to fight back. How?
Tomorrow, SEPT. 29th – 7:30 AM
Come to Manchester with your signs…
YOUR PRESENCE WILL MAKE A DIFFERENCE!!!
Saint Anselm Institute of Politics
100 Saint Anselm Drive
Manchester, NH
7:30 AM – WE NEED EVERYONE THERE TOMORROW!!! WE NEED 1,000 PEOPLE!!!
Pressure the Councilors to protect our Right to Privacy. Remind them that this is their job!!!
Assemble with other patriots just outside this meeting, starting at 7:30 AM at Saint Anselm's College in Goffstown. Sununu is pushing hard to pass this UNCONSTITUTIONAL database expansion. You need to stand up for your rights…
If you cannot come, then call or email your Executive Councilor.
Extracted from "Additional Terms and Conditions of Award""(CDC) hereby incorporates Immunization and Vaccines for Children, which are hereby made a part of this Non-research award""
A recipient of a grant or cooperative agreement… agrees, as applicable to the award, to:
1) comply with existing and/or future directives and guidance from the Secretary (a DC politician)…
2) assist the United States Government in the implementation and enforcement of federal orders related to quarantine and isolation."
[in addiiton] "the recipient is expected to provide to CDC copies of and/or access to COVID-19 data collected with these funds, included but not limited to data related to COVID-19 testing CDC will specify in further guidance and directives what is encompassed in this requirement." So: among other things, if this money ("award") is accepted, [the agree-ers] will have to agree to comply with and all as-yet-unknown "future directives and guidance," in addition to currently explicit "enforcement of federal orders related to quarantine and isolation."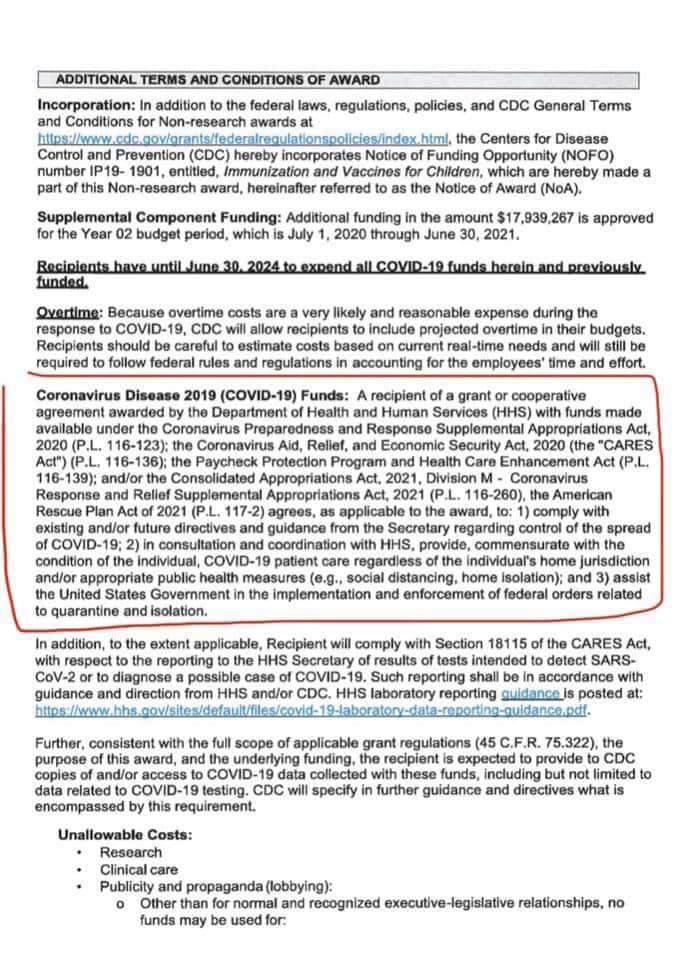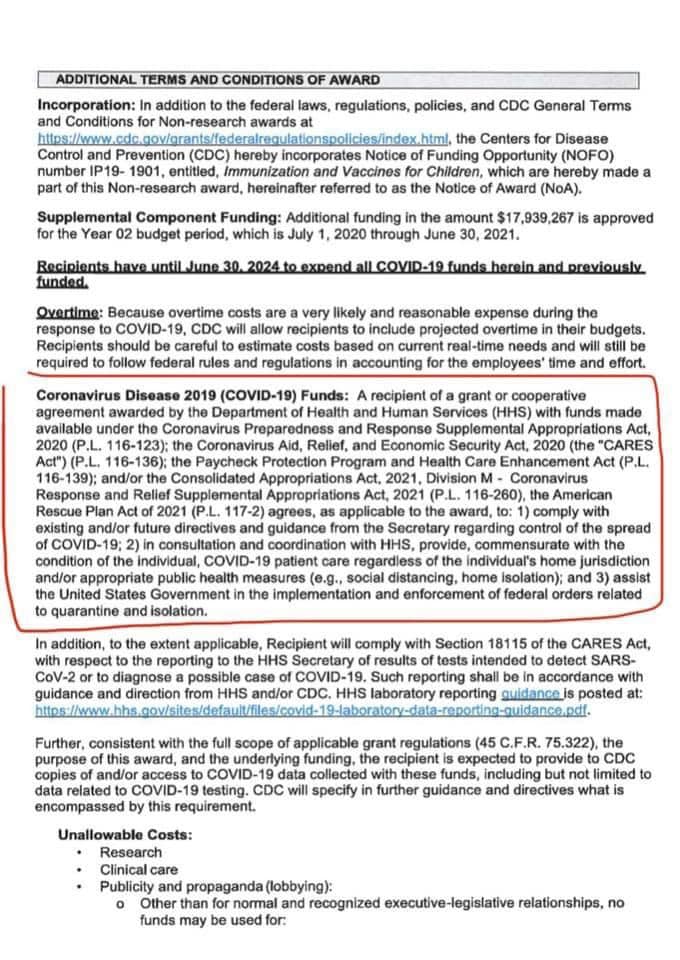 States that have accepted this federal grant – and the conditions that accompany it – have reportedly been posting these jobs recently:
UPDATE 10/13: The Executive Council voted 4-1 to REJECT the federal grant. Only Cinde Warmington voted to accept the $27 million.
District Two
Cinde Warmington
PO Box 2133
Concord, New Hampshire 03301
Executive Council Office: (603) 271-3632
Office Email: Cinde.Warmington@nh.gov
Cell: (603) 387-0481