On Tuesday, September 6, six pro-liberty Republican State Representatives were attacked by the establishment. Nasty mailers were sent by the 'Granite PAC', an organization that recently spent over 80k supporting Sununu and other New Hampshire establishment players. The targets of the attacks included Mike Sylvia, Max Abramson, Josh Yokela, Melissa Blasek, Norm Silber, & Paul Terry. The authoritarian PAC with invisible donors spent over $26,000 attacking the most pro-liberty Representatives.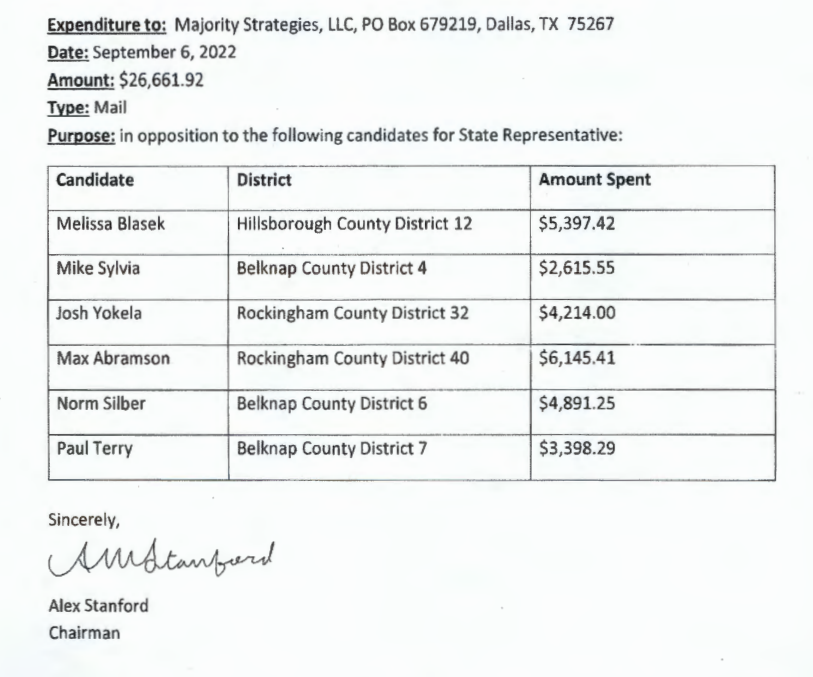 The New Hampshire House Republican Alliance (HRA) grades Representatives on adherence to the constitution and the platform and four of the six Representatives earned a perfect score, so these Representatives are Republicans to their core. So what is the true common thread? They are anti-establishment fighters. They push the envelope towards freedom and liberty in New Hampshire and the establishment has started to push back.
The mailers were filled with anti-freedom and anti-liberty messages, as well as some flat-out lies. The two-sided mailer that Republican voters in Brentwood, Danville, and Fremont received was vicious and false. It claimed that Rep. Josh Yokela (NHLA liberty score of A) is anti-Republican and anti-New Hampshire even though Yokela's endorsements include the National Rifle Association, LibertyBallot.com, Make Liberty Win, New Hampshire Liberty Alliance, Americans For Prosperity, The Liberty Block, and ReOpenNH. His awards include the Protector of Freedom – 2022, Protector of Freedom – 2021, Conservative Excellence – 2020, Protector of Freedom – 2020, and Protector of Freedom – 2019.
Does that seem like the Live Free or Die spirit of New Hampshire?

They attacked him for pushing back on Sununu's abuse of power during the pandemic and his commitment to allow the discussions to continue about New Hampshire independence from the corrupt DC swamp.
Do the majority of Republicans in New Hampshire support independence from DC politicians and rolling back legislating by executive authority??
Let's examine the facts:
State independence
In the only scientific/official poll ever conducted on how New Hampshire voters feel about peacefully separating from DC and governing itself, SurveyUSA found that 52% of Republicans support independence, while only 38% favored being ruled over by DC politicians. Logical humans would take this information as an indication that the majority of New Hampshire Republicans do support independence. Furthermore, Yokela (and some of other legislators who were targeted by the anti-liberty Granite PAC) simply voted in favor of a measure that would have allowed the people of New Hampshire to vote on independence. The legislation only would have passed if 67% of the voters supported leaving the union. To that effect, the survey also asked whether the New Hampshire legislature should pass legislation that would place the question of independence on the ballot so that the people could vote on this critical issue. The result? 57% of Republicans said that the people should be able to vote on independence, while only 36% did not want the question placed on the ballot. This makes one thing very clear: the majority of New Hampshire Republicans want independence to be placed on the ballot, and they would vote to leave the union.
Last session, nine legislators (including some in leadership) sponsored CACR32, legislation that would have placed the question of independence on the ballot. Largely due to threats of being charged with treason, rebellion, or insurrection, only 13 Representatives voted for the bill, which died in the House. Finally, the question was answered when an anti-liberty activist filed a formal complaint about the pro-independence legislators with the Ballot Law Commission. The BLC was asked to remove the 13 legislators from the ballot for engaging in treason. On August 24th, the BLC unanimously voted to dismiss the ridiculous complaint. The Assistant Attorney General, who is a member of the Commission, said during the hearing that non-violent acts cannot be considered treason, rebellion, or insurrection. The Secretary of State is also a member of the Commission and was present at the hearing.
Since the introduction of CACR32, momentum for peaceful separation from DC has grown rapidly. Not a single legislator has agreed to debate publicly against any pro-independence Granite Stater. Alu Axelman has been asking legislators to debate him for nearly a year, and they all continually refuse, including Brodie Deshaies (NHLA liberty score of C), the most vocal anti-independence legislator in the state. The pro-DC politicians have no good arguments, and they know it. The pro-independence movement, on the other hand, has published countless articles (including one listing the top 100 reasons to secede) and multiple books about New Hampshire independence. The NH Independence PAC has raised over $2,000 from New Hampshire donors within a few weeks of its founding. The decentralized '#NHexit' movement includes many websites that inspired local citizens felt called to create, including NHexit.org, NHexit.US, NHindependence.org, NewHampshireSecession.com, LibertyBlock.com, TheGraniteRepublic.com, and possibly others. The New Hampshire independence movement is flourishing in so many ways that the list would be too extensive for this article.
In his statement explaining his vote against killing CACR32, Rep. Yokela explained that "some believe that the Constitution has been so perverted by Congress and the federal agencies that there is no hope of getting the current federal government scope to be back within the Constitution so starting over without the baggage is the only way to live up to the dreams of the Founders. I am not scared of those questions or debates, so I think having more hearings on the issue would have been better than voting to sweep it under the rug as something we are not allowed to talk about. If we make peaceful revolution impossible we make a violent revolution inevitable."
If you live in Brentwood, Danville, or Fremont, vote for Rep. Josh Yokela in the Republican primary on Tuesday, September 13th. If you have questions for Josh, simply ask him when you see him or email him at Josh.Yokela@leg.state.nh.us. I think that he'd be happy to chat with you.
Similar mailers were delivered to voters in districts of Rep. Melissa Blasek, who is running for reelection in Merrimack. This music teacher and mother was so furious about corona-fascism that she decided to run for office in 2020. She was elected on a platform of personal liberty – especially medical freedom and privacy. In her first term in elected office, she worked tirelessly to protect medical freedom, lower taxes, improve economic freedom, promote education freedom, and preserve self-defense rights. She is the Executive Director of ReOpenNH. She is endorsed by Citizens Alliance NH, LibertyBallot.com, LibertyBlock.com, Make Liberty Win, and was given the award for Conservative Excellence by CPAC. She received a liberty score of A+ from the NHLA, and a 100% score from Granite State Taxpayers and the House Republican Alliance.
Melissa sounds super anti-Republican, doesn't she?
For months, Rep. Mike Sylvia has been under vicious attacks from Dictator Sununu, Democrats, and anti-liberty activists. He received a mailer that sought to convince voters that he is "reckless" and "dangerous" because he does not blindly support the Dictator, he believes in allowing the people to vote on independence, and he does not recite the pledge of allegiance to DC politicians. As explained above, nearly no one outside of Sununu's small circle supports his tyranny. We already addressed independence as well. The last issue that the mailer raises is that Sylvia "Refused to answer questions on why he didn't say the Pledge of Allegiance."
The pledge is not sacred; it was created by an evil socialist as propaganda to promote his flag sales to schools all over the union and no one who supports freedom should recite the creepy statement. I do not know which instance specifically the GPAC losers are referring to, but I was at the House Committee hearing on CACR32 with Mike. The very first question of the day was asked by Vice-Chair Michael Moffett: "Presumably, you no longer recite the Pledge of Allegiance?" The video does not lie. Sylvia clearly answered the question. He explained that he does not recite the Pledge because it conflicts with his higher power. Indeed, the first commandment of all Abrahamic religions (Christianity, Judaism, and Islam) does prohibit the believer from worshipping the federal government.
Mike Sylvia is the most powerful fighter in the legislature working to abolish the disgusting practice of 'civil asset forfeiture'. He supports self-defense rights, low taxes, economic freedom, free speech, and opposes victimless crime prosecutions. He is A+ rated by the NHLA and has been endorsed by Americans For Prosperity, New Hampshire Independence PAC, The Liberty Block, ReOpenNH, New Hampshire Right to Life, We The People, Cornerstone, NRA, GraniteGrok.com, LibertyBallot.com, and many others. Sylvia was the NHLA legislator of the year in 2018.
Mike sounds super anti-Republican, too, right?
The hate-mail targeting Rep. Norm Silber essentially calls him a bad guy while making no mention of any specific issues on which he has spoken or votes he has cast. It claims that he "cast aside out Republican values, putting politics first." This is a ridiculous claim, considering his ratings by the NHLA (A+), AFP, HRA, NRA, ReOpenNH, and several other groups. And he has been the most successful chair of the Belknap County Republican Committee in decades.
We encourage Republican primary voters in Gilford, Gilmanton, and Laconia Ward 2 to vote for Norm Silber on Tuesday, September 13th if they want him to continue defending liberty from all tyrants, even those in his own party.
Rep. Max Abramson was targeted by the anti-liberty group for opposing Dictator Sununu, as well. Republicans living in Hampton and Seabrook should vote for Abramson on Tuesday to send him back to Concord to fight for liberty. His endorsements include ReOpenNH, American Conservative Union, NRA, NHLA, AFP, The Liberty Block, Coalition of New Hampshire Taxpayers, N.H. Families for Education, the Republican Liberty Caucus of New Hampshire, LibertyBallot.com, Selectman Brendan Kelly, Lee Hurst, Tina Harley, and New Hampshire Representatives Eric Eastman, Mark Warden, Tony Piemonte, and Hershel Nuñez.
Rep. Paul Terry of Alton/Barnstead was also hit with a mailer for supporting independence and liberty and for not sucking up to Dictator Sununu enough. Terry voted for Education [Choice] Freedom Accounts, ALL Pro-Second Amendment Rights bills, The Fetal Life Protection Act, Right to Work, Lowering Taxes on Individuals and Businesses, and many more pro-liberty bills. He is endorsed by ReOpenNH, The Liberty Block, The NHLA,
The attack on Rep. Paul Terry claims that "he was part of a dangerous effort to secede from the union," and that he is guilty of "violating [his] oath of office." In fact, in a public statement on April 14, 2022, and now substituting Granite PAC as the new false accusers, he wrote, "I voted in favor of CACR 32 because I believed that the voters of New Hampshire ought to have the right to discuss, debate and decide an issue of enormous public significance. [Granite PAC] may believe what they wish about my intention, but that does not make them any less reprehensibly incorrect than [they] were in charging me with favoring secession from the United States…Apparently I have more respect for the intelligence of our citizens than [Granite PAC]. And, according to [Granite PAC], apparently I was wrong to believe that New Hampshire would have been well served to provide our people with a tremendous opportunity to engage in a grand exercise of both our cherished freedoms and our marvelous civic duties." This is no violation of an oath of office. In fact, it is a responsible act of taking the oath seriously.
Dictator Sununu
The mailers claim that Republicans in New Hampshire support Sununu, and that failure to blindly worship him is evidence that the legislator is anti-Republican. Let's examine the evidence again: throughout the past two years, Chris Sununu elevated himself from 'Governor' to 'Dictator'. In a horrific power grab justified by corona-fascism, Sununu declared a state of emergency for 16 months. During this time, he shut down the New Hampshire House and Senate and ruled by fiat, as a dictator or king would do. Throughout his reign of tyranny, Sununu imposed over eighty executive orders on the citizens, many of which violated natural rights, such as privacy and bodily autonomy. The Dictator derailed the booming economy by forcing businesses to close. This alone caused some legislators to begin asking for an investigation into if his overreach of power warranted impeachment. But Dictator Sununu wasn't done. In October of 2021, he had his State Troopers arrest and punish nine peaceful protestors. The citizens were plucked from the crowd during an Executive Committee meeting, seemingly on direct orders from the Dictator. The only reason that those specific people could have been chosen for arrest was that Sununu considered each of them to be political opponents of 'His Excellency'.
The clearly political arrests were severely condemned by nearly everyone in New Hampshire. Within five weeks, seven of the ten Republican County Committees in the state passed resolutions calling for an independent criminal investigation of the Dictator. Predictably, Attorney General Formella (who was previously Sununu's private lawyer) did not call for any investigation into Sununu's vicious actions. If my arithmetic is correct, 7/10 constitutes a majority. The facts show that the majority of Republicans who are involved enough to be on their County GOP Committees passed resolutions condemning Sununu. That said, he was not impeached by the House, likely due to his tremendous amount of control over leadership.
In summary, supporting liberty and independence over DC and Sununu does not necessarily make one anti-Republican or anti-New Hampshire.
UPDATE 9/9: House Majority Leader Jason Osborne appointed Blasek as Assistant House Leader, likely in response to the vicious attacks by Sununu and his anti-liberty PAC. Blasek is a freshman Rep. who has become a powerful force in the House, leading the fight against corona-fascism. She sponsored 34 bills, 11 of which passed into law.
UPDATE: Assistant Majority Leader, Melissa Blasek won her primary. Josh Yokela and Paul Terry will also move on to the general election in November. Unfortunately, Sylvia, Silber, and Abramson did not win their primaries.
This article does not necessarily reflect the opinions of The Liberty Block or any of its members. We welcome all forms of serious feedback and debate.